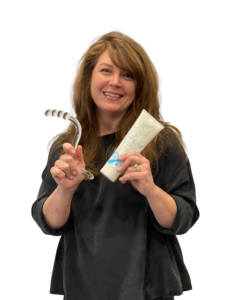 What got you interested in pelvic health?
I thought my low back and hip pain was just that. While I was a student in my clinicals, my Certified Instructor was a long time employee of Nesin PT and a pelvic health specialist. Pelvic Health PT changed my life and I knew as a student this was the type of PT I wanted to spend my career focusing on.
What are some of your top favorite patient populations/conditions to treat?
Pelvic floor pain, incontinence and pre/post natal. I also enjoy the ortho side of maintaining symmetry and optimal movement for the best outcomes. It is all connected!
What's your favorite comfort food?
Depending on my mood, Cheese (& wine 😉 or toasted PB&J's
Favorite TV binge?
I loved New Girl (all the seasons 3 x). More recently I have enjoyed The Queens Gambit and Stranger Things.
Favorite indoor or outdoor activity?
I love my many (& old) house plants and am learning to take it outside with gardening and landscape. Also, absolutely anything with my grandson who is almost 3!
What's your guilty pleasure?
Wheel of Fortune 🙂